The only truly sealed double-diaphragm spring brake on the market!
LifeSeal+ 2.5" and 3.0" stroke models are engineered smart, built strong, and road-tested tough for dependable, durable performance that outlasts ordinary spring brakes. That means fewer parts to buy, less downtime, more days on the job, lower operating costs and durability that never punches out. You need performance and durability in your brakes. Not rust. Click the picture to watch the video breakdown of the LifeSeal+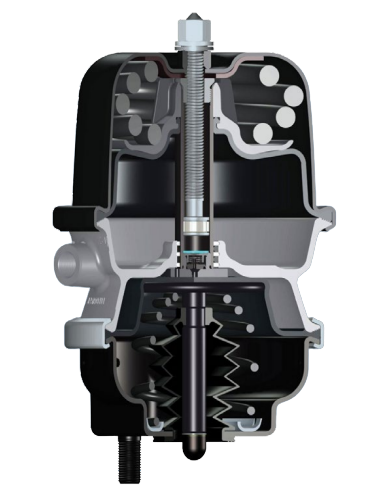 LifeSeal+ Features and Benefits:
Available in two sizes, 2430 and 3030
Threaded forged or welded clevis with stainless steel pin
Available in various pushrod lengths
Standard or heavy-duty housing

STD - 9 gauge / HD - 8 gauge 
All 3.0" strokes feature heavy-duty housing

Standard power spring or high-output power spring

Standard power spring - trailers
High-output – truck/tractor for greater holding power

AM chambers specified bolted clamp band providing installation flexibility
Variable port angles specified for AM
Adaptable port angles specified for OE
All Haldex LifeSeal+ spring brake actuators are backed by a severe-duty 4-year warranty or a standard-duty 8-year warranty.